The fast paced journey of XpressJobs
Published On README

To say that hunting for jobs is challenging, would be an understatement. You might apply to 500 places, get calls from 30, interviews with 10, and a reply from 1 if you're lucky. Things aren't any easier if you're on the other end of the recruitment process either. Finding the right people that are not only talented but fit into the company culture can be equally challenging. To help solve these problems is the mission of XpressJobs. This is their story.

The birth of XpressJobs
The idea for XpressJobs was born inside the mind of Chathum Henegama. In his role as the Head of Technology at Davton, he wanted to hire a few software developers. So he put out a few advertisements for the role. He soon got responses and found another problem: he received too many and had no way of sorting through them. So Chathum met his friend Sampath and shared his problem because Sampath had a background in recruitment. The both spoke of this and decided to build a website to help people find jobs.

However, neither of them could commit to this venture full time and they needed someone who could meet and introduce the service to clients. The found the right person with these talents in an unexpected place. That place was the McLaren's Building in Bambalapitiya. The right person was Oshadie Korale, who at the time was a Ph.D. student in Pharmacology.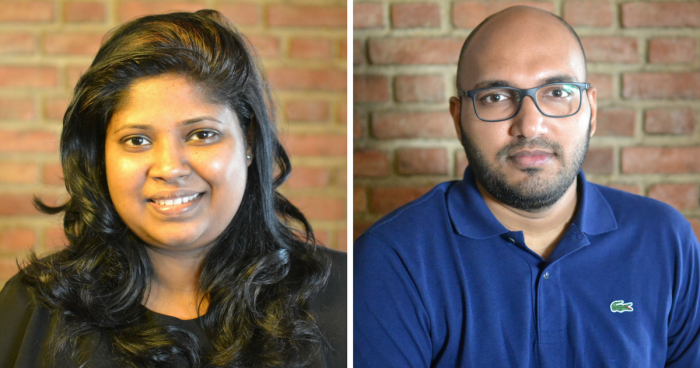 Oshadi had moved into the Regus office and occupied one of the mini-cubicles to work on her final thesis. She did so because of her two puppies at home that required a lot of love, which killed her focus. The Regus office would help her focus – or so she thought. At the Regus office, she was regularly visited by two of her friends: Chathum and Sampath. Both of them knew that while Oshadi had no background in business or IT, she was good at selling ideas to people. This was after seeing her experience being involved with the non-profit: Adopt a Dog.

Initially, Oshadi was skeptical for she had spent much of her life studying to be a scientist. So her friends said, "Why not join us until you find something to research?" The answer Oshadie threw to this question was a positive yes. Soon after, the three co-founders put in their savings to help the company afloat for six months. Work then began on building the first version of XpressJobs. And on November 2nd in 2015, XpressJobs was born.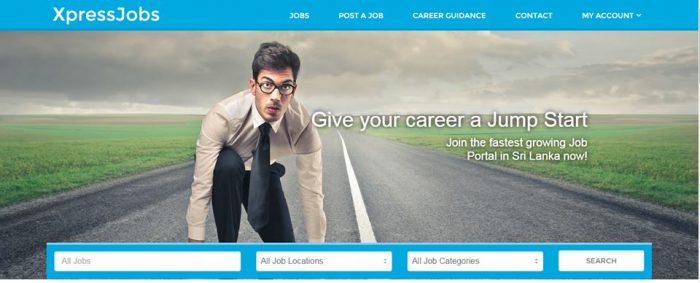 The initial version of XpressJobs was a website that allowed employers to sort CV's from applicants for interviews, take notes and help applicants get jobs. The challenge was to build something that was loved by both the young tech-savvy job applicants and the older recruiters who always saw newspaper ads as the best source of finding talent. As such, there was much testing that took place. It was through these tests that they learned about the little details that create a great experience on a website. One notable lesson was when Oshadie was her relatives trying to upload a JPEG image of a CV instead of a PDF or MS Word document.

Solving the problems faced by HR departments
Having learned from their early days, XpressJobs polished themselves and offered their services for free. Then six months passed and they started charging companies. Suddenly, the tone of their clients had changed. The clients started sharing their recruitment problems with the XpressJobs team. If they were going to be charged, then they needed to see something valuable. The XpressJobs team took it as a challenge and was determined to deliver.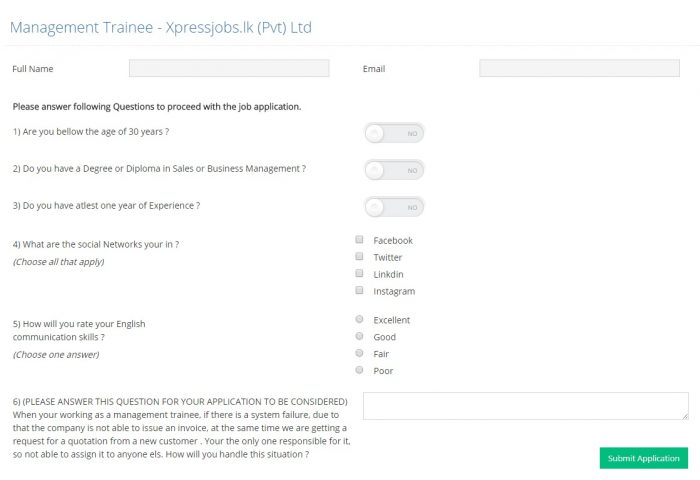 This was the attitude Oshadie had when she walked into the HR department of HSBC one day and learned of a major problem they faced. Whenever HSBC put out a job advertisement, they would receive over 1000 applicants. However, they only needed to hire 10 people and had no way of sorting and going through the applications in an efficient manner. Oshadie shared this issue with the rest of the team. They looked around and found that this was a common problem amongst many large corporates.

Seeing this, XpressJobs built their filtering system. The idea behind the system was simple. All it did was ask a few general questions from the applicant to see if they were fit for the job. These questions would be ones that a recruiter would ask during an interview. Once the candidate answers these series' of questions, then a final score is calculated to see how qualified a candidate is for the job.

While the idea behind the filtering system is simple, the results were surprisingly effective. This was because many applicants had surprisingly not read the job specification. Rather they simply saw the name of the company and applied. XpressJobs helped filter the number of applicants down and showed their clients exactly how much value they help generate in the recruitment process. Once it was operational at HSBC, everyone wanted it.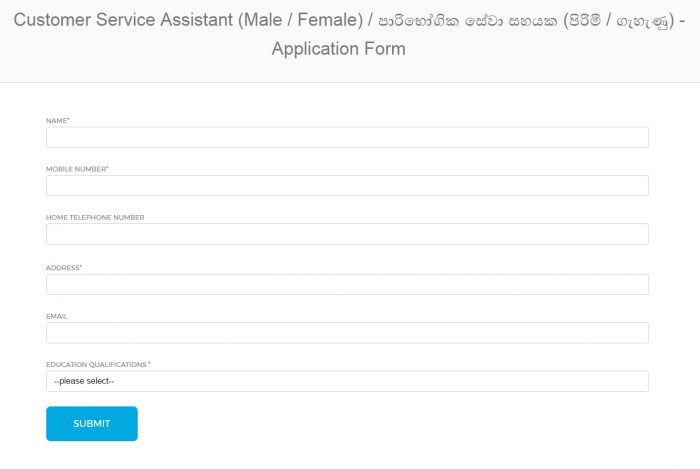 Seeing the success of their filtering system only 6 months after they had launched, XpressJobs began focusing towards innovation and solving the problems of recruiters. And it wasn't long before they identified another problem which recruiters faced: hiring blue-collar workers. For a white-collar job, Oshadie shared that they saw over 300 applicants. However, for blue-collar jobs, they would see only 10 on a good day.

To help turn this around is why they built their blue-collar application system. This was built for people who are tech-savvy enough to browse Facebook but don't know how to create a CV. Once again, this was a simple system where interested applicants would fill out a form. The system was initially built after seeing the problems John Keels faced when looking for customer service executives to work at Keells Super.

So they put an ad calling for applicants on XpressJobs. They didn't receive many CV's but they did receive many phone calls. Each call started with an interested applicant asking, "How can I apply for a job at Keels?" The answer they received was, "Create an account on the website and upload a CV." To which the applicant then asked, "What's a CV?" This was when XpressJobs saw the market gap and built the system. Today, many companies from Dominos to KFC to LOLC to Triumph rely on this.


Additionally, they also started offering video job adverts for recruiters. When it comes to these adverts, XpressJobs would produce short videos for the company and promote them on Facebook. After the first video, these became a hit. The most notable one being with Crossover. This was a company, which many applicants wanted to join and was recruiting through XpressJobs. But many applicants were afraid to apply because they didn't think they would get in. After XpressJobs published a video with a Sri Lankan that joined Crossover through XpressJobs, the number of applicants shot through the roof.

Of course, not everything XpressJobs does is online. They've also organized their own job fairs. Their first job fair was held inside a temple on the 20th of August in 2016. However, this isn't your typical job fair where you only get an introduction. No, these job fairs are like walk-in interviews that are primarily aimed at blue-collar workers. As such, companies like Union Bank, Keels Super, and HNB Assuarance are regular attendees.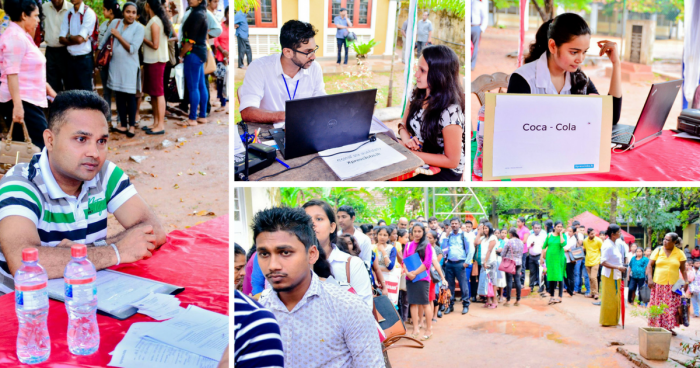 The process begins with any interested applicant seeing, which companies are there. The applicants then choose which of these companies they would like to work in. Afterwards, XpressJobs filters the number of candidates to the most suitable applicant for each job. Then the applicants meet the recruiters from the companies and conduct the interview. Interestingly, a CV is unnecessary at these job fairs. If an applicant doesn't have a CV then the XpressJobs team helps them create one. The most recent job fair took place in Makola, which saw over 1000 applicants.

Where XpressJobs is today
As of today, XpressJobs is little over a year old. Yet in such a short span of time, they've acquired clients like MAS, Hayleys, VirtusaPolaris, Coca Cola and more. All this, without any external funding and they aren't actively seeking it either. Nonetheless, Oshadie shared with us that they are still open to investors having been shortlisted by the Lankan Angel Network. However, they believe that marketing a great product will bring them money. At the same time, they value their independence. Thus, the 3 co-founders were and still are bootstrapping.

So what's next for XpressJobs? More ideas and experiments. Oshadie confidently said to us, "We aren't afraid of experimenting with stuff." This is why the company focuses on adding a new offering for both recruiters and applicants every 3 months. To do so, the co-founders have built a strong yet small team. Building it was no easy task, but the idea behind this team was attitude over qualifications. Thus, XpressJobs now has a small yet strong team that's never afraid to shoot ideas and constantly experiment.

Their latest creation is an Android app that helps job seekers not just find but also apply for jobs. Currently, they are focusing on building a bulk SMS system. This too is aimed at helping recruiters connect with applicants interested in blue-collar jobs. This was because some applicants don't answer calls from unknown numbers. Thus, XpressJobs is now building a bulk SMS system that would allow the applicants to set their interview dates via SMS.

Today, XpressJobs aims to be the trendsetter that revolutionizes the entire recruitment process in Sri Lanka. And they've come a long way towards that goal. In the span of one year since the company was born, they support over 1500 companies in solving their recruitment problems and over 50,000 registered candidates have found jobs with the platform. What will they be working on after this? Well, that's something only time will tell.